05 October, 2021
5 Major Advantages of SMS Marketing for Your Business
SMS marketing is one of the best ways to communicate and connect with your customers easily and also to promote your business. Nowadays SMS or text messaging is mainly used to make customers know about an ongoing sale, special offers, discounts, coupons, and any update on latest products. Due to the increase in usage of smartphones many businesses have started realizing the importance of SMS marketing. According to the research, 8% of users in the world have visited online stores only when they received messages about special offers, discounts, etc. This clearly shows the importance of SMS marketing for any business. Also, SMS marketing services are used to connect with existing customers as well as to reach new audiences.
Major Advantages of SMS Marketing for Your Business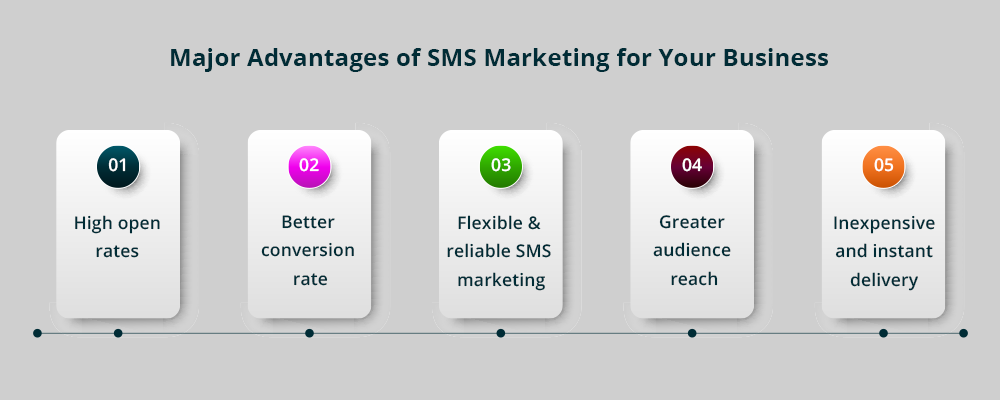 SMS marketing services are a cost-effective and budget friendly option for almost all organizations and businesses. Below are the major benefits of SMS marketing for your business.
High open rates
One of the main advantages of Bulk SMS marketing is usually the text messages will have the highest and a huge open rates when compared with the emails or phone calls. According to the recent survey, 98% of the Bulk SMS which are sent are opened by the customers that makes SMS marketing services very beneficial to all the businesses looking for effective and quick customer services.
Better conversion rate
With the high usage of sending instant messages through apps, the benefits of SMS especially in business are increasing. For example, SMS services are still witnessing a good conversion rate when compared with all the other new-age counterparts. Even customers will be more interested to visit your website and know about your special offers or promotions shared through Bulk SMS than through any other promotional or marketing services.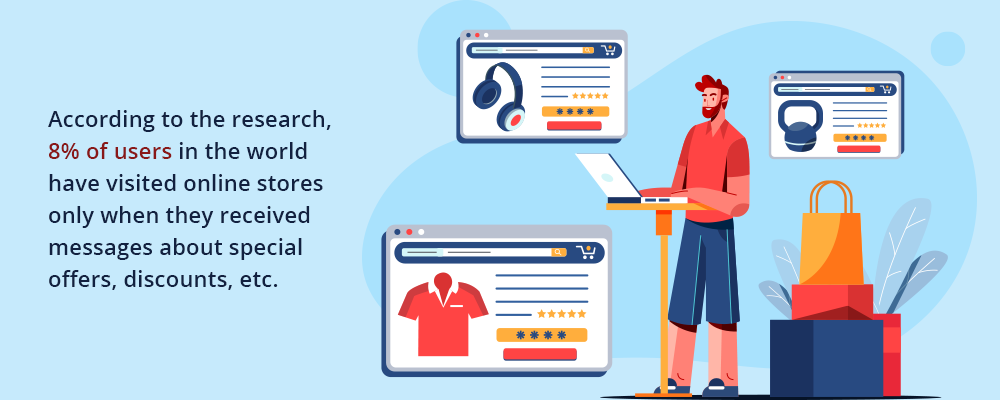 Flexible and reliable SMS marketing
Businesses may utilize Bulk SMS services in order to make customers aware of an ongoing sale, offer discounts, coupons, or make customers know about the opening of a new store which has been opened nearby, also send reminders about appointments, and many more. Also, Bulk SMS will provide limited space in order to convey the story. Businesses will be required to utilize the 160-characters intelligently for reaching customers in an impactful and more effective way.
Greater audience reach
Due to the more usage of mobile phones, there will be great online traffic which is being generated through the smartphones all over the world which makes SMS marketing a perfect option of communication for most businesses. One more benefit of using Bulk SMS for any business is there is no need for internet connectivity to receive a text message, it will be just enough to have a phone that is working. Due to huge usage of mobile phones, SMS marketing will be more reachable to the audience. Entrepreneurs or organizations can make use of this SMS marketing to easily reach customers and promote their business.
Inexpensive and instant delivery
Bulk SMS marketing offers cloud messaging services making the SMS marketing services a budget friendly and cost-effective choice for almost all businesses. Cloud telephony services providers will provide Bulk SMS options through their platform or SMS API that will allow businesses to reach out to huge numbers of customers in a simple and easy way. When compared with other Bulk SMS marketing services like television ads, magazines, etc. SMS marketing is highly budget-friendly. By prompt delivery of Bulk SMS in seconds, most of the businesses will be able to reach customers easily.
Conclusion
SMS marketing is inexpensive and an efficient way to promote business and reach your customers easily. So most of the businesses opt for SMS marketing services to improve conversion rate and business revenue. AdvantaSMS is the top Bulk SMS service provider in Kenya that offers Bulk SMS services to promote your business, improve your brand reputation, and connect with your customers easily for a reasonable price.