08 April, 2021
Acquire Effective Insights to The Emergency SMS Alert & Notification
Mobile devices have served many essential functions from primordial times. It has a lot more functions than just making calls. Beginning from website browsing, video conferencing, online navigation, online gaming, to audio calls, it has contributed a lot to human actions. With this smart technology, it has played an integral part in making interactions during dire circumstances. During a time of crisis, what requires most is the speed in acknowledging the community of the impending danger or other notifications. And no other better option is available than SMS. It is one of the fastest and efficient modes to interact with the community.
When it has a complete reaching niche and requires instant delivery, SMS messaging can be a proper way to reach the extensive range at a lightning-fast speed. As per the latest study, only 20% of the emails are noticed and read in the first minute. Contrary to that, more than 90% of text message recipients read emergency SMS in the first place. This is an influential method used by many brands and merchandise to promote their brands and send messages to potential customers. A number of ways lie when it serves beneficial to business in overcoming a critical situation.
What Is emergency sms alert & notification?
A complete SMS alert and notification system that enables organizations or businesses to send an email, social media, phone call, and text messages to a community of people. With the help of this system, you are capable of sending many alerts per minute. Thus, all calls or text messages are successfully received by the recipients after being sent.
Different benefits of emergency sms alert & notification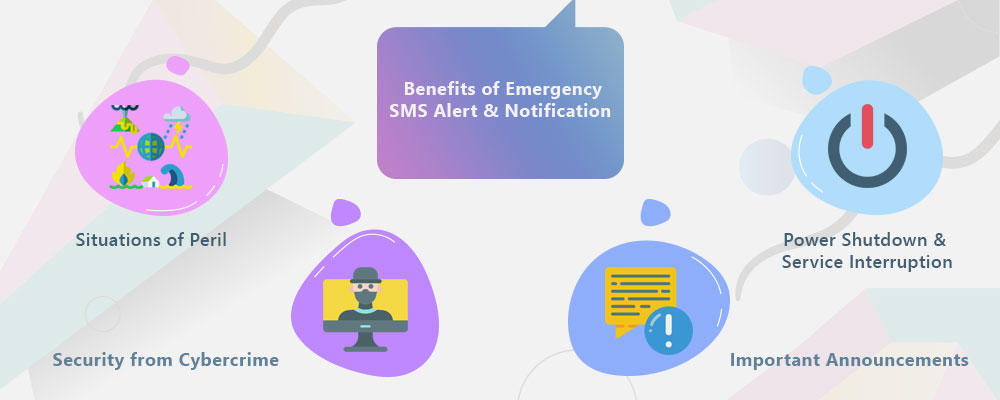 Situations of peril
SMS messaging service can turn out to be an influential tool for communicating and interacting with victims or people during dangerous situations. If there is some weather situation or natural disasters, SMS can serve as a great tool to circulate the message to all people in a region or locality. With the help of SMS messaging service, you can acknowledge the people about the emergency measures to adopt, localities or regions to avoid during storms, safety measures during the fire, and many other updates during dire circumstances.
Security from cybercrime
Different bank and cooperative authorities use SMS services to alert customers regarding suspicious actions on their bank accounts. They can acknowledge the online threats they are receiving from the last few days and alert customers to not make any transactions until account recovery. In addition to this, SMS can be used to send customers the link for account recovery and prevent online hacking. It can also be used to notify them of recent hacking ways through which hackers calling customers by the name of banks and taking all account details just to empty your account.
Important announcements
The emergency SMS alert system enables users to communicate to a wider audience base. For instance, it can be used by the school management to make instant contact with parents within a short period of time. The school authority can inform them of the sudden closure due to impending storms or other emergencies. Event management organizations can use SMS alert services to notify community people regarding the change of event time.
Power shutdown and service interruption
There are times when a power outage occurs and customers get to experience the unplanned shutdown facing difficulties therein. This can be solved with emergency SMS notifications. The power authority can send alerts to mass people with just a click of a button so that they remain prepared and complete their pending works within time.
Why is using sms for alerts is crucial?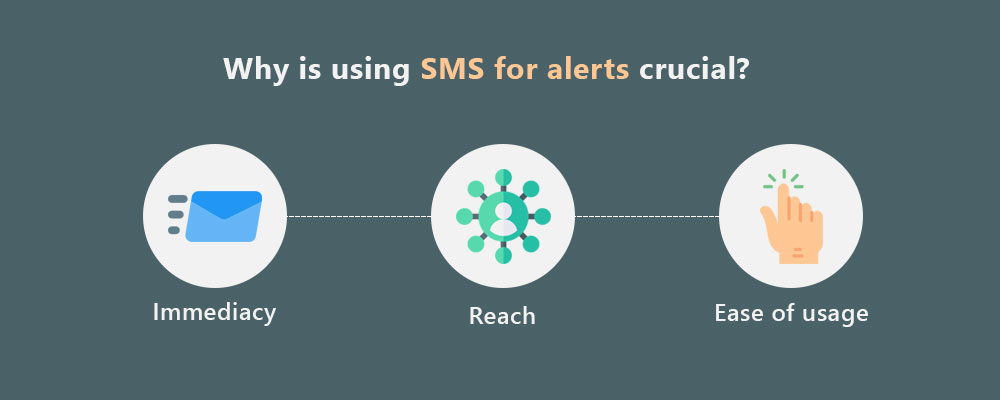 A number of reasons are responsible for using SMS services in emergency situations. In this context, it is important to mention the different reasons why SMS alerts can be used as a potential alert system.
Immediacy
As one of the simplest and fastest ways to circulate among different communities, SMS service is also a cost-effective way that can be used by many organizations to notify of emergencies. This is immediate even in remote regions. The unique feature of this system is that all recipients will receive alerts at the same time.
Reach
Emergency SMS service is considered a short messaging program that can be sent to a huge number of people within just a matter of seconds. The latest study suggests that SMS opening rates are quite high as compared to emails. Most users have the tendency to open a text message within just a few minutes and this notion served as essential to notify them of the impending perils and guidance through safety protocols.
Ease of usage
Are you getting problems sending messages to an enormous number of people? The bulk SMS platform enables to send of bulk text message notifications to mass people. It also sends delivery reports, thus, the user can ensure the delivery of messages to the recipients. These are the conventional methods through which a community of people can be well-informed of the impending event.
How does an emergency sms alert work?
During a time of crisis and emergency, an instant alert system is required to notify the community's attention. Everyone has mobile devices and it is also an important checklist when it comes to going out. People never detach his/her own mobile phones in any situation. The opening rates of SMS alerts are significantly higher than any other. For instance, a school can have all their contacts of the staff, teachers, and guardians in one platform. During a time of school emergency such as school closure due to weather conditions, a single SMS alert reaches the entire school community with just a single click.
Final Thought
It can be well-stated that the instant SMS system has become one of the premium communication methods to communicate with a huge number of people. The crisis times require the immediate response of the user authority and this purpose is served by the emergency SMS notifications. AdvantaSMS is the leading bulk SMS service provider and has been a renowned global SMS service expert in Kenya. With the help of AdvantaSMS services, it is convenient to send bulk SMS and text messaging services. As one of the top SMS service providers, the company offers cost-effective services to organizations and clients all across the globe.