20 September, 2021
What are the benefits of Bulk SMS Services for Airlines and Aviation Companies?
Nowadays airline deals and special offers are a buzzword as most of the customers who prefer to travel by flights are looking for the best deals and special offers. Moreover, most of the travellers are choosing a particular airline company for their entire travel plans based on the affordable prices. These offers may do wonders to enhance the loyalty of customers and the easiest way of communicating with the customers is through Bulk SMS marketing channels. It is very challenging for the airline companies if they depend on multiple channels for communication in order to notify their travellers as it leads to bottlenecks which finally results in errors. Even they need to invest more for all these communication channels. Hence, most of the airline and aviation companies prefer Bulk SMS services as they are cost effective and quick way of communication with the travellers.
Benefits of Bulk SMS Services for Airline Industry
There are many advantages of Bulk SMS Services for airline and aviation companies. Let's have a quick overview of the most important benefits of Bulk SMS Services for airline industry
Improves customer loyalty
It is very difficult to obtain customer loyalty in the airline industry because almost all travel plans will depend on affordability. Hence it is clear that the customers will not always prefer the same airline when they fly. In order to resolve these issues many airline companies are coming up with various special offers, bonuses, and other benefits to obtain repeat customers. The best way to communicate with the travellers is through Bulk SMS services. If you rely on emails, most of the promotional email updates will be sent into the spam or any promotional folder and most customers may not open and read your mails. By offering these kinds of benefits customers will consider great value for the money which will enhance their loyalty with the airline and aviation companies.
Deal notifications increase conversions
It is easy to attract travellers of airlines by offering them the information they are looking for by sending Bulk SMS. Even the users who are not planning to travel will certainly change their thinking with special deals that are offered by the airline companies. The quickest way for communicating these deals is through Bulk SMS marketing because it will reach fast and obviously opened by most of the customers.
Send travel updates/ reminders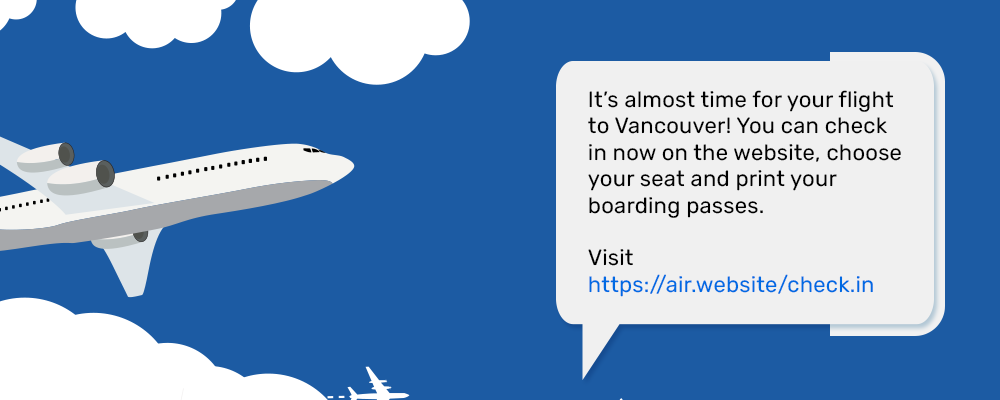 Bulk SMS services for airlines may also include alerts on flight arrival, timetable of departure timetable, most importantly last minute flight changes, updates on connecting flights, simple check-in services for the most frequent travellers, and more. Even the Airline Industry is adopting Bulk SMS services to improve the travel experience of passengers and customer satisfaction.
SMS Marketing is cost effective
SMS marketing dashboards are easy to use, customizable and flexible. They are cost effective when compared to other marketing channels and also easy to be managed by one person. Airline companies can also update notification messages through Bulk SMS marketing which includes status of flight, information of tickets and various other updates to improve the customer satisfaction with very little expenses.
Bulk SMS is reliable
Bulk SMS services will provide great reliability especially as it is supported and viewable on almost all the mobile devices. Also, it has been proved that Bulk SMS has the highest open rate of around 98% which is highly beneficial when compared to any other modes of communication including emails, etc. So most of the airline companies rely on BulkSMS services to attract new travellers.
Conclusion
Bulk SMS marketing is cost effective and the quickest means of communication with customers. So most of the airline companies are adopting Bulk SMS services to enhance customer satisfaction as well as travel experience of the passengers. AdvantaSMS is the top Bulk SMS service provider in Kenya offering Bulk SMS services for an affordable price so that airline companies can communicate easily with their customers and even attract new travellers.