12 August, 2021
What are the benefits of using Bulk SMS for Churches?
Today, it became most difficult for the churches to get connected with their followers in a busy and fast-paced life where technology is more dominating. It is mainly among the young people who rely much on technology to connect with others. This method is more interesting as most of the churches depend on limited volunteers and financial resources to complete any tasks. As the young people of the congregation are spending most of the time on their mobile phones, it is a better way to utilise Bulk SMS services to reach out to them easily.
Bulk SMS for churches is the most effective way for charities as well as churches. Similarly, the congregations that are forward-thinking are implementing text SMS engagement to connect with others. As a church is more similar to various organizations requiring communication with its followers on a daily basis Bulk SMS services will be useful. In most cases to update the upcoming occasions, send reminders to members about important events or any other messages Bulk SMS services will be very helpful.
How to use Bulk SMS for churches
Bulk SMS services are an effective and quick solution to connect with all the congregation members and create a better engagement among the group. Below are the most common uses of Bulk SMS for Churches.
Segment contacts into groups
Bulk SMS services will be utilized for effective communication with the staff members, volunteers, and congregation members. For more effectiveness, we suggest the segmentation of contact lists. You can also create various contact groups by making use of the text messaging software.
Recruit and manage volunteers
Usually, churches will rely on the restricted resources. A two way text messaging helps in organizing the volunteers or reaching out for further assistance to the community. Most important features of Bulk SMS helps the churches in sending personalized text messages to all their followers.
Updates
Ensure that the congregation is always updated with any special events, occasions, and happenings. As most of the people will read the text messages, so it is wise to make them get updated through text messages.
Prayer requests
A simple way to make all your congregation pray for a particular cause can be done through the Bulk SMS services. It is the very fastest process to make all congregations pray for a specific purpose. Bulk SMS for churches helps a lot in providing quick information to everyone.
Daily devotionals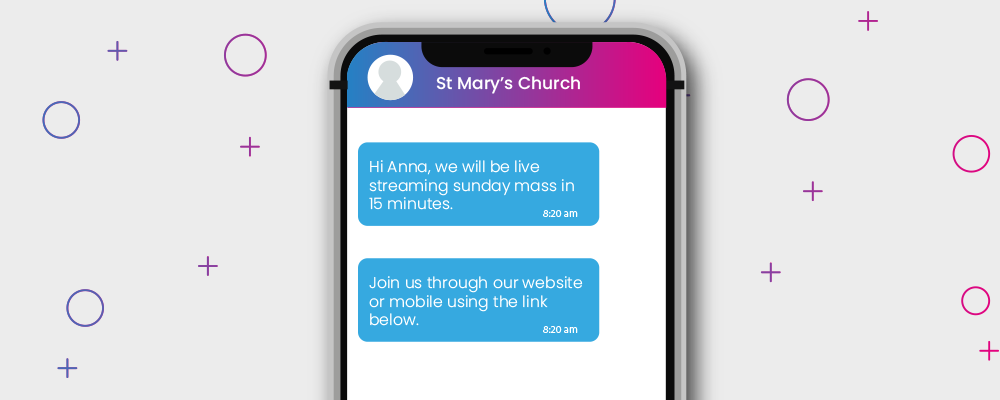 Send daily text messages to your congregation like the quote of the day, inspirational messages, or any other messages from the pastor to connect with them easily.
Give reminders for special events
If any special event is going on in the church like a summer event or family get together, it is easy to inform everyone by sending Bulk SMS prior to the event as a quick reminder about the gatherings or detailed information of events.
Promote fundraisers
Bulk SMS services will be utilized for the promotion of fundraisers and to increase awareness on various issues like bullying and update all the information related to donations.
Cancel services
Most of the churches are planning many services and outdoor activities which will sometimes be canceled because of the weather conditions. Emailing or calling the congregation members will take more time. Bulk SMS for churches is a reliable and simple solution to connect with all the members on time.
Survey congregation members
SMS surveys are the perfect solution for the collection of feedback and the congregation will be receiving texts with all the updates. Simple surveys will assist you to enhance your services, improve attendance rates for organizing all the events.
Advantages of Bulk SMS for Churches
Bulk SMS services help to keep the communication effectively between the parents, church, children, and remaining members. This helps the community to row faster. Below given are the advantages of Bulk SMS services for Churches.
Connects on a deeper level
Those who have subscribed to the mobile list will surely be in search of some guidance. Sending the personalized messages provides the opportunity for connecting easily with all the congregation members.
Easily grow your congregation
Bulk SMS for Churches will assist in growing your followers. With drip campaigns like the pre-written messages, it will be easy for attracting new members and encouraging loyalty. Consistent sending of Bulk SMS and alert messages will make the followers understand that you care a lot.
Instantly reach the congregation members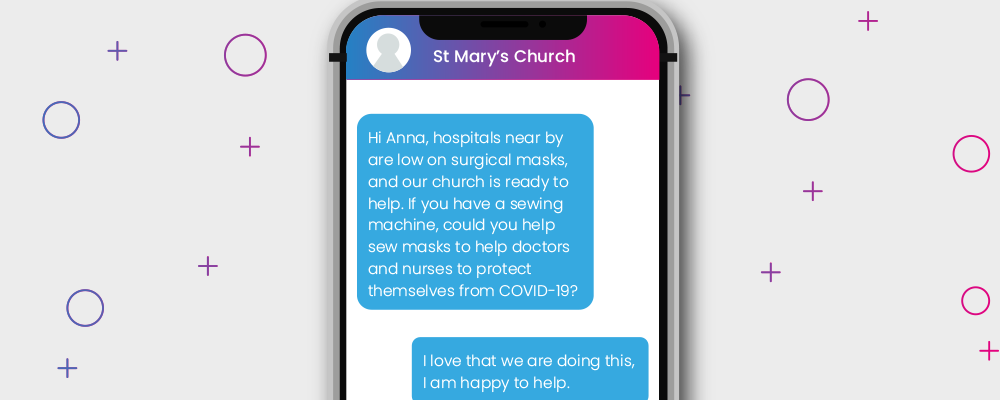 By using Bulk SMS services, it is easy to connect with the followers within a few minutes. This helps in sharing all the time-sensitive details associated with the upcoming occasions or any emergency situations.
Cost effective solution
Churches are not only struggling with the limited resources like manpower but also with less amount of money. Every small amount of money counts and Bulk SMS services are a cost-effective solution for connecting with more people.
Keep all the members informed
With the Bulk SMS feature, it is easy to make the members informed about the signups, sacred holidays, ministry news, and various other updates. Bulk SMS for Churches helps in sending friendly reminders to all the parents about the children's ministry.
Provide the most convenient way to help
Most of the people are interested in donating to charities or helping others, but they always want to be in their comfort zone. Mobile fundraising is the most convenient method through which donations can be done easily to improve others lives. Bulk SMS for Churches are a very convenient and cost effective way to communicate with the people.
Conclusion
Bulk SMS services are a budget friendly and very effective way to connect with a large audience easily and quickly. Most of the Churches all across the world are already using Bulk SMS services to reach out and communicate effectively with all the congregation members as it is the simple and quick way for contacting people. It is easy to update any special events of the church, send notifications, reminders, prayer requests, and other important messages instantly to all the members.